We specialise in modular demountable partitioning and metal stud partitioning, dry lining and taped & jointed finishing.
Fire Barriers (using TBA Firefly products), acoustic flooring, and associated works as required.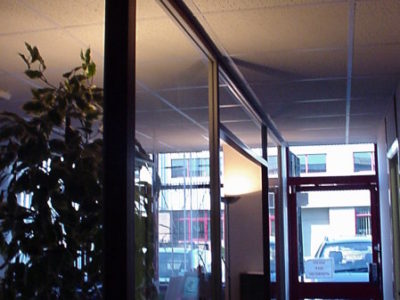 Demountable Partitioning
Modular system partitioning is versatile and fast. You can create stylish new offices in a wide choice of colours and finishes, and the modules can be solid, or double or single glazed. Cover strips and vinyl wallcoverings complete the job neatly and quickly.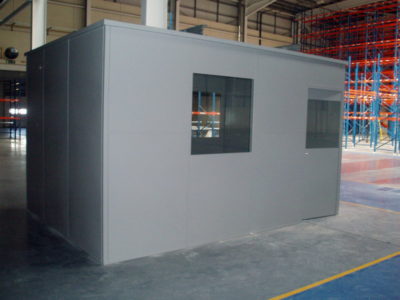 Steel Modular Partitioning
Create a quiet office in the middle of your busy warehouse. Steel Modules can be solid, part glazed or part meshed for secure areas and offices.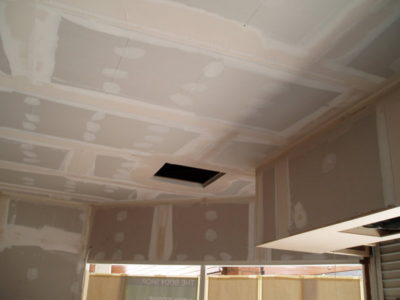 Dry Lining/Taping & Jointing
Taping & Jointing is the up-to-date way to finish dry lining or plasterboard partitioning, and makes conventional plaster skimming unnecessary. The job shown here is nearly finished and will be sanded down to a smooth surface for immediate decorating.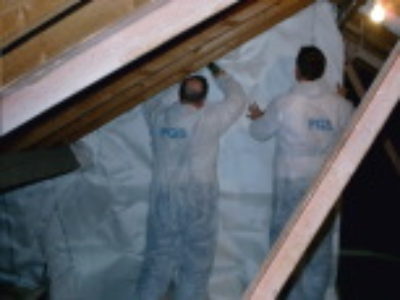 Cavity Fire Barriers
We are experience in all types of  passive fire protection systems. This contract at a local school required upgrading the fire protection to the latest fire regulation specification, which required the open roof space to be divided into 3 fire compartments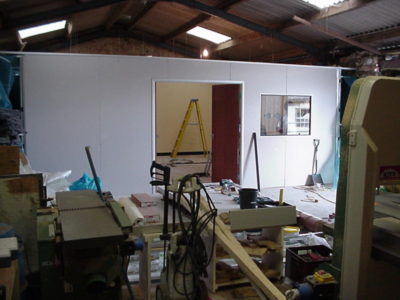 Conversion of Outbuildings
This office was erected inside an existing stone barn, using demountable partitioning panels and suspended ceiling, with insulation against damp and cold. We can arrange for lighting/electrical and plumbing installations.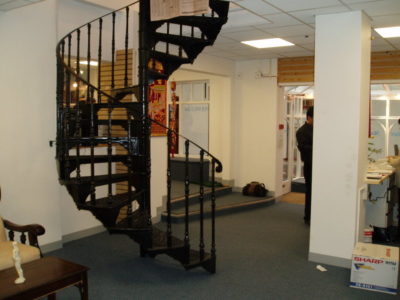 Carpeting and Decorating
As part of a total refurbishment project, we can undertake other kinds of work too. This shop contract in Dorchester included partitioning, ceilings, lighting, electrical work, plumbing, carpeting, vinyl flooring, painting and decorating, and a little carpentry and shelf-fitting.